---
Notice of book sale
Hirano Akiko American Pie SPECIAL BOX of Hirano Akiko [large book] Release October 22

---
New hours at Matsunosuke NY (April 26th, 2012)
The store hours of Matsunosuke NY have changed as of April 26th (Tue), 2012
New hours: Open at 8:00 – Close at 18:00
Closed on Mondays (We are open on holidays)
---
Sold out notice for Matsunosuke's Apple Pies
All of our apple pies are sold out.
Thank you for your order. We sincerely appreciate it.
---
Carrier opportunity at Matsunosuke Kyoto
Date posted: January 23th, 2011
Matsunosuke Kyoto is seeking staff to join our team.
Experience in similar fields is an asset.
Please contact Tanaka 075-238-1058
---
September 3rd (FRI), 2010
New pancake menu at Matsunosuke Kyoto
The special pancakes from our sister store, Café Rhinebeck, are finally available at Kyoto Matsunosuke.
Our NY style Pancakes are inspired by the recipe of cuisine professional Ms. Sheryl Jean, the mentor of Ms. Akiko Hirano. Enjoy our extra fluffy and smooth pancakes.
---


September 18th (SAT), 2010
Matsunosuke NY is open at Daikanyama, Tokyo
Our special pancakes from Pancake House Rhinebeck in Kyoto, sister-store to Matsunosuke Kyoto, will become available in Tokyo this fall. These New York-style pancakes are inspired by an
original recipe by Ms. Akiko Hirano's mentor, Cheryl Jean. You must try this extra fluffy and smooth pancake.
Click here for more details
---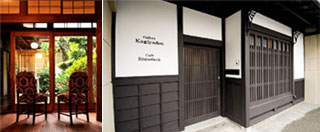 Pan Cake house, Café Rhinebeck is open
Open January 24th, 2010
Click here for more details
---